"Good posture can be successfully acquired only when the entire mechanism is under perfect control."
– Joseph Pilates
PILATES 1, 2 & 3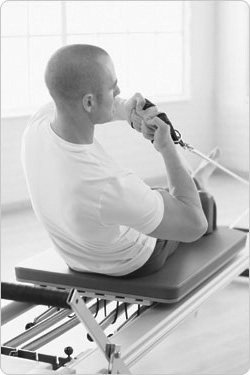 For intermediate and advanced clients with experience on the apparatus. If you are joining us from another studio, we request that you book a 1 hour private session to receive an assessment. This will ensure you are placed in the best class for you.
INTERMEDIATE AND ADVANCED CLASSES:
Pilates 1, 2 & 3
Power Pilates
Pilates Matwork – Intermediate/Advanced
BENEFITS OF REGULAR PILATES EXERCISE:
longer, leaner muscles (less bulk, more freedom of movement)
improves postural problems
increases core strength, stability and peripheral mobility
helps prevent injury
enhances functional fitness, ease of movement
balances strength & flexibility
heightens body awareness
no-impact, easy on the joints
can be customized to suit everyone from rehab patients to elite athletes
complements other methods of exercise
improves performance in sports (golf, skiing, skating etc.)
improves balance, coordination & circulation
Call today to book your assessment and be placed in the best class for you – 604.943.8823.