"As you get older, the questions come down to about two or three. How long? And what do I do with the time I've got left? I don't know where I'm going from here but I promise it won't be boring."
David Bowie
A few months ago I entered the "50 Club". It has been a time of reflection and looking forward to what I want to do with the time I've got left.
In my past, I trained hard. I ran and biked fast and far. I'd get up early and workout with determination and focus.
Now, my attention has shifted to one of health, strength and happiness. My movement and exercise regime focuses on well-being and longevity. It's a bit of a relief to be honest. I enjoy my experiences more. I take time to be grateful for my surroundings. I am more relaxed and in less of a hurry.
When you consider David Bowie's quote, what matters to you? What are you doing with your time? And, what role does your health and personal strength play into making this possible?
The Tsawwassen Wellness Centre was created to support YOU in having a foundation of great health, energy and fitness from which all you choose to do is possible.
Our NEW LOCATION at TSAWWASSEN SPRINGS
is a beautiful, calm and healing space providing programs and services in the realm of body, mind and spirit.
Participate in our Pilates, CoreAlign and Yoga programs or join classes and workshops on mediation, nutrition and healthy weight management. We offer healthy back classes, restorative Pilates and classes specifically for the 60+.
Our guarantee is that you will have a positive movement experience every time you are with us. You will move, strengthen, stretch and breathe in a way that feels amazing in your body. Try us out. Begin with our Jumpstart Package, drop into a yoga or mediation class or attend a complimentary seminar on Monday evenings.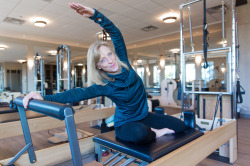 I am ready to take on this new and amazing year. I am excited to fill our new studio with meaningful programs, seminars and offerings. To have a space of renewal, great energy and fun for all of you. To make new friends, connect with our amazing community and be so healthy and fit that I be playful and spontaneous in life.
I invite you to join me in creating anything you want with great health, energy and joy.
In health,
Linda Mallard
Owner, Tsawwassen Wellness Centre