Patricia Tufts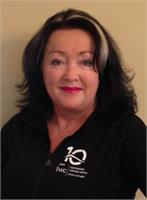 Physical-Mind Comprehensive Certified Instructor (500+)
BASI Pilates Injuries & Pathologies Certificate .
Third Age and Prenatal Pilates Certified.
Patricia is a seasoned Instructor with extensive qualifications in the Fitness Industry. Pilates for Pregnancy -Third-Age Pilates and Rehabilitation, with over
twelve years teaching Pilates.
Patricia is Internationally traveled and has recently taught Pilates overseas in Spain. Ex- Scuba Dive Instructor and Triathlete, she believes "To enjoy the glow of good health you must exercise."-- (Gene Tunney).
Patricia's love and passion of people and their well being ensures her sessions are healing and motivating. She guides her clients to develop better posture, alignment, and core stability, leading to true functional fitness and a renewed connection to their bodies, their health and well being. She inspires her clients to take what they learn and apply it to their every day lives. Patricia is extremely hands-on and is known for her healing touch.
"Your talent is God's gift to you. What you do with it is your gift back to the world." --Leo Buscaglia
Patricia Tufts is currently not instructing any classes.