Joan Littlejohn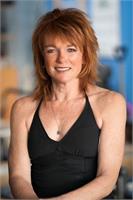 My story
I have a framed picture on my wall of a little red headed girl wearing a tutu doing an impressive arabesque. I drew it when I was five and recently rediscovered it while going through old photos and memorabilia. While I didn't come close to finding a career as a ballet dancer, I spent many years in the dance world (contemporary) achieving a Minor in dance and a Degree in PE and Recreation. I am still involved in the dance community and sit on the board for a local dance company.
Despite some enlightening starts in other areas I believe my life plan was somehow connected to creativity and movement. Like many of my peers, I started teaching "aerobics" when I was 16 with minimal training but lots of enthusiasm! After extensive training I continued on my journey in the fitness industry teaching, presenting, opening fitness clubs and teaching courses to certify fitness, aqua and personal trainers. During that time I competed in body building and competitive aerobics and triathlons. Pursuits that were, in hindsight, poor choices for the longevity of my joints. I am currently waiting for a new knee but am working hard to hang on to the one I have – I am kind of attached to it and will hate to see it go!
I found a calling for Pilates in the 80's after giving up my legwarmers and pursued training and teaching in a variety of schools of Pilates. Having been exposed to the classical approach to Pilates and respectful of the principles, I chose to add education and training that I found to be more user friendly and functionally useful to my participants. I believe our evolving lifestyles of sitting too much, computers and lack of exercise requires a more broadened approach to Pilates training. Incorporating my expertise in Yoga Therapy and a variety of other disciplines ensures my clients are offered a well-rounded and unique movement and flexibility experience.
Joan Littlejohn instructs the following: