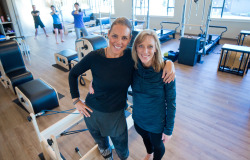 When you walk into the Tsawwassen Wellness Centre, you'll feel replenished by a warm welcome, and endless opportunities to realize your health, fitness and joy.
If you are ready to make the commitment to a healthier lifestyle, you'll find the resources and expertise to turn your intentions into a reality.
We are a dedicated Pilates Studio, fully equipped with all of the specialized Pilates equipment. Our programs and services are held to the highest of standards. Our team is certified and experienced and committed to their area of expertise. Whether you are super-fit, semi-fit or returning to fitness, we will meet you whereever you are on your journey and create a health and fitness plan that inspires you and delivers results.
At the TWC you will find both our team and our clients to be supportive, passionate and excited for you to join our Studio and reach your goals.
Stop by for a visit, we'd love to meet you, find out what you are looking for and together create a health and fitness plan that works for you.
Complimentary consultations are available by appointment. Simply call or email us to book a time.
604.943.8823 or admin@twconline.ca
Location: #120 - 5133 Springs Blvd, Tsawwassen, BC - in Tsawwassen Springs Golf Community